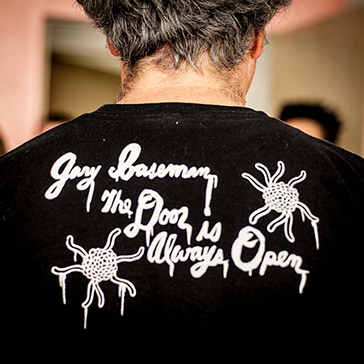 Once again, our semi-monthly Artist Salon introduced us to an inspiration: Gary Baseman. This LA-native is known for his stylized illustrations, paintings, animation, performance art and a non-traditional way to highlight common human conditions like love, pain and gooey sex. "I want to disarm people with my art. I want them to feel their own 'uncomfortableness,'" Mr. Baseman said in a recent LA Times article about his exhibition,'The Door Is Always Open,' at the Skirball Cultural Center. The experience is a replica of his childhood home complete with his parents' actual furniture.
Mr. Baseman's friend, Toby, is a constant travel companion and is often passed around events. Hmmmm... bacteria.
One of Mr. Baseman's current projects is raising funds for the creation of a documentary about the life of his Jewish father, Ben, who fought Nazis in Poland during WWII. To begin the storytelling adventure, Mr. Baseman collaborated with animator Peter Markowski at Kesselskramer LA and South-African duo Die Antwoord. You can watch the video here.
Photos by Erica Johnson.