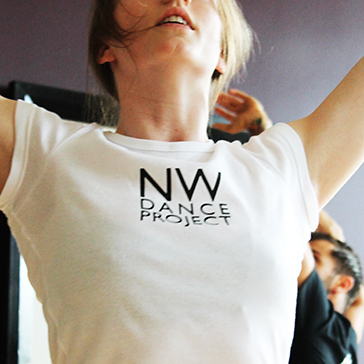 Portland has vibrant arts community, but like in most cities, artistic programs work hand-to-mouth. Funding is too inadequate. Performances are too few. Seats are too empty. To illustrate the need for regularly working artists to support their sisters and brothers, Work for Art brought in two Taiko drummers  and four dancers to whet our whistle for possibilities.
From Portland Taiko's website:  "Taiko, the Japanese word for drum and the name of the art form, has its roots in ancient Japanese tradition and was used in religious ceremonies, community festivals and theater. The boundaries of villages were defined by the distance from which the community taiko could be heard. American taiko was born in the late 1960s, and it became a powerful symbol of voice during the struggle for redress of the Japanese American internment."
These massive drums echoed like thunder throughout the studio. Headphones went down and people were drawn to the big sounds.
Three floors up four contemporary dancers in socked feet demonstrated why Portland's NW Dance Project is known throughout the world.
NW Dance Project's Artistic Director, Sarah Slipper
Behind our doors, we make art everyday. We fabricate it, model it in pixels, draw it with a stylus. Sometimes, though, we need a reminder of what other artists are doing with body movement, sounds and words.  This treat was special, and we thank Work for Art for honoring their beneficiaries and pushing us to give.
About Work for Art: "Donations to Work for Art's Community Fund and Arts Education Fund support 100+ vital arts and culture organizations every year—encompassing dance, visual arts, music, literary arts, media arts, theater, cultural arts, and arts education. Work for Art raises these funds primarily through employee charitable campaigns at workplaces in Oregon and SW Washington."
Photos by Alise Munson