The animated short from HouseSpecial Director Aaron Sorenson is a German Expressionist-inspired design mash-up of stop-motion and illustration… with a decidedly adult twist.
I was inspired most directly by the silent German Expressionist films such as The Cabinet of Dr. Caligari and The Golem. But I was also inspired by my love of prison break films such as Escape from Alcatraz, I Was a Prisoner on a Chain Gang, and Papillon.
The main character, Klaus is inspired by Cubism (mostly Picasso). We squashed his form into something rather flattened and kind of 2.5D.
The sets were designed to reflect that same flat, skewed aesthetic.
Stop motion just seemed right for the story in terms of atmosphere and capturing an intentional theatrical feel. The textures and tangibility of practical sets and characters are really arresting and doing it in black and white makes the viewer focus on those details.
What were the main technical challenges of the project?
Trying to get as many elements in camera as possible. In the opening shot we really wanted to push all the way through the prison bars without having to shoot the foreground as a separate element. We had to figure out a way to subtly crank open the bars as we pushed into the scene. We eventually took a section of the wall out to get the camera through to make the shot work. I love these sorts of problems.
Animating the tiny version of the puppet on the rooftops was challenging. It was a hard shot to block for choreography and timing. It took many motion control passes to figure out the camera move and our animator, Suzanne Twining, worked out the movement through a series of pop-throughs (animation tests).
The puppet was also so small (about 4-1/2-inches) that he was easy to break during animation. That puppet had to be constructed to retain his small scale without his armature adding too much bulk to the design or profile. It came out great in the end and was definitely worth the extra effort.
Are there any other details or productions stories you would like to share?
There are an amazing amount of details throughout the short that the crew added on the sets, props and puppets. For instance…
In the opening shot there is the most wonderfully disgusting toilet way down in the bowels of that awful prison cell. Originally we had spikes coming out of the bowl, but it was a little hard to read at such a small scale. There's also this weird cage torture thing I love that is a prop in the end shot.
There are treasures like that all over, especially at the end of the short. I love how great model builders will bring such enthusiasm and creative little details to everything they touch.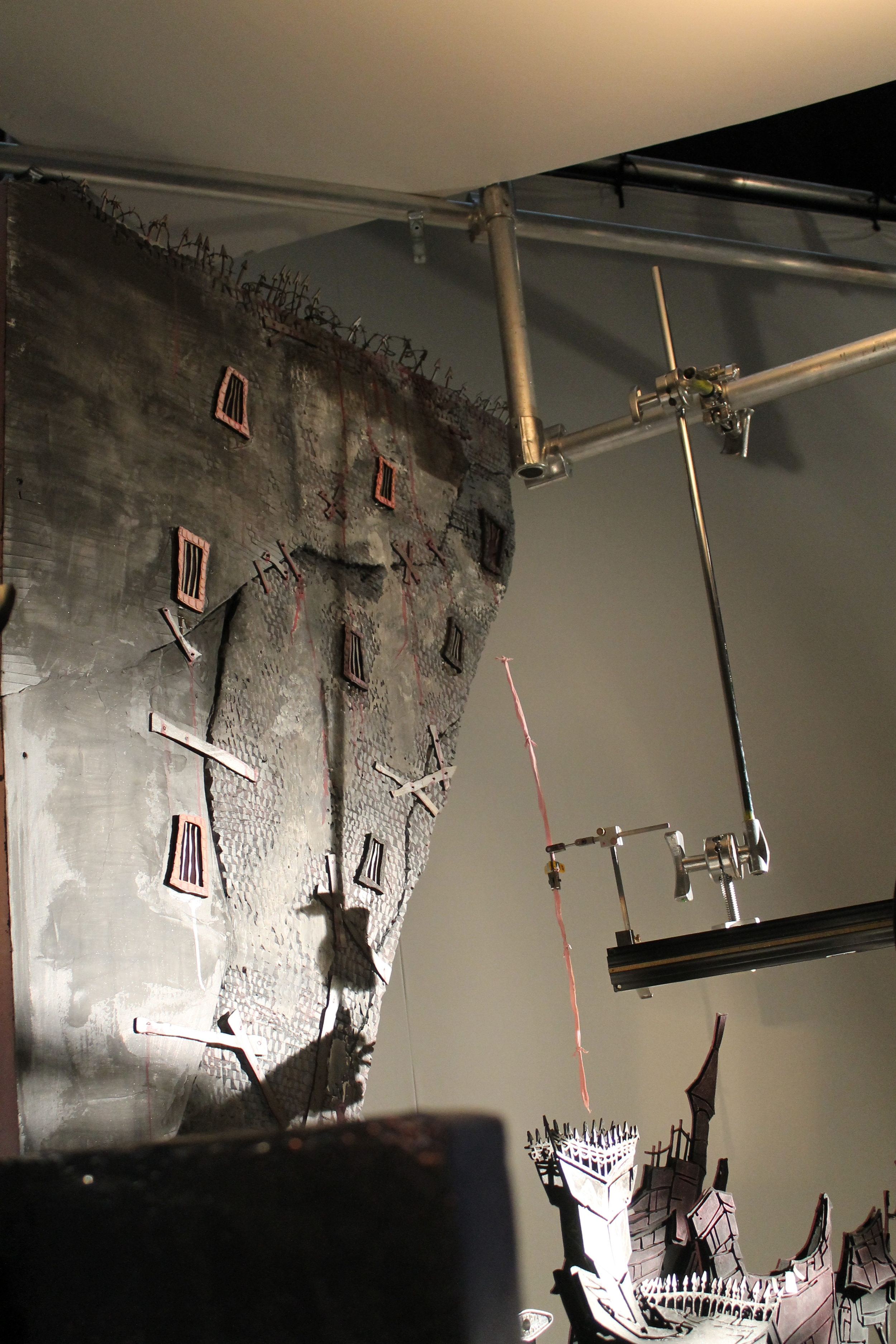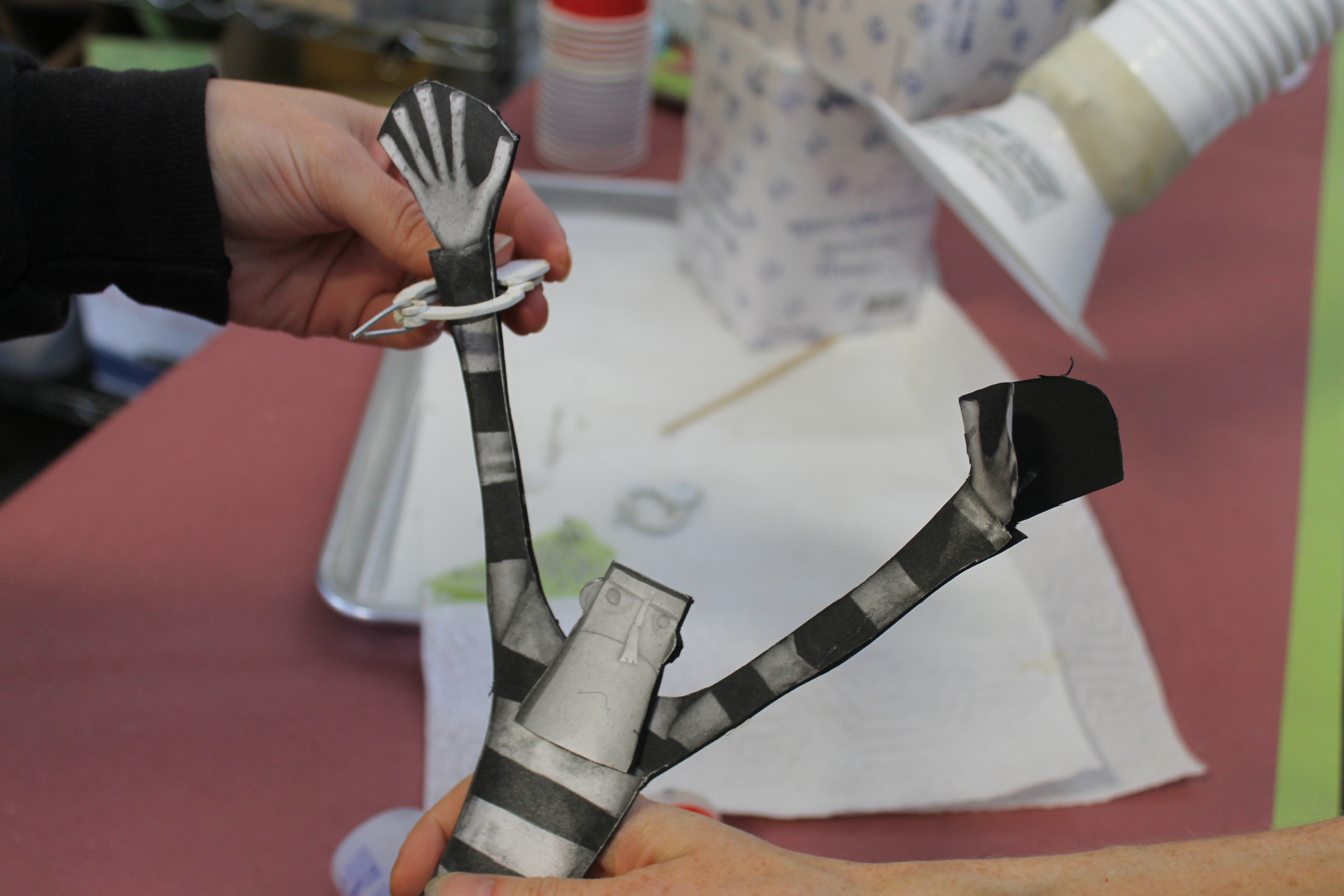 CREW CREDITS
Conceived & Directed by Aaron Sorenson
From HouseSpecial - a Short Stuff™ production
Creative Director: Kirk Kelley
Executive Producer: Lourri Hammack
Production Designer: Alan Cook
DP: John Nolan
Editor: Steve Miller, Cam Williams
Line Producer: Nicole Fitzhugh
Production Assistant: Alex Webster

DESIGN
Character Designer: Aaron Sorenson, Alan Cook
Background/Environment Design: Craig Bowers, Don Flores, Sharon Huang, Kristy Kay, Phillip Spehar, Tod Polson
FABRICATION
Character Fabrication: Katie Mello, Margaret Meyer, Chris Ohlgren
Set/Prop Fabrication Lead: Greg Fosmire
Set/Prop Fabrication: Gary Logue, Katie Mello, Margaret Meyer, Josh Pearce, Emma Van Halsema
STAGE
Animator: Suzanne Twining
Swing/Electric/Grip: Jake Hauswirth
Wrangler: Rob Melchior
Art Dept/Stage Manager: Erica Johnson

CG & POST PRODUCTION
FX: Patrick Van Pelt
Opening Titles: José Díaz, Stephen Bodin
Matte Painting: Stephen Bodin
Flame Artist: Rex Carter
Editorial Assistant: Dino Coons
MUSIC & SOUND
Original Music Produced By: Mophonics
Original Music By: Roberto Murguia and Róisín Malone
Creative Producer: Kristoffer Roggemann
Creative Director: Stephan Altman
Sound Design & Mix By: Lance Limbocker, Limbocker Studios
A special thanks to the Oregon Film Board
Anima Mundi
(Brazil)
Rio - October 25, 2016
São Paulo - November 2-6, 2016
October 14, 2016
Oregon Independent Film Festival
Winner: Best Animated Film
September 25, 2016
KROK International Animated Films Festival
(Moscow)
September 20-28, 2016
(Canada)
September 16-18, 2016
Burbank International Film Festival
September 7-11, 2016
Montreal International Animation Film Festival
(Canada)
August 18, 2016
Animation Block Party
(Brooklyn)
July 29, 2016
(Bradford, UK)
July 28, 2016
Neum Animated Film Festival (Bosnia and Herzegovina) -
In competition
June 28, 2016
Fear No Film - The Utah Arts Festival
June 23, 2016
Annecy International Animation Film Festival
June 13-17, 2016
June 3, 2016
AninetFest
(Prague, Czech Republic)
February 20 - March 12, 2018
AnimaSyros
(Greece)
September 27 - October 1, 2017
(Dublin)
August 26, 2017
We Like 'Em Short Film Festival
(Baker City, Oregon)
Winner: Best Picture
August 19, 2017
Zabut International Animation Short Film Festival
(Italy)
July 28-30, 2017
JAILBREAK received a Jury Special Mention: A mention for a film that celebrates the best animated short-film spirit: clear idea, lightning development, impeccable technique.
Stop Motion Barcelona Short Film Festival
June 29, 2017
2017 Lower East Film Festival NYC
June 8 - 15, 2017
May 10-14, 2017
New York International Children's Film Festival
NFK [NOT FOR KIDS] Benefit
February 2, 2017
Animation Nights New York (ANNY)
January 11, 2017
December 10, 2016
October 22-29, 2016
(Vancouver, BC)
October 21, 2016