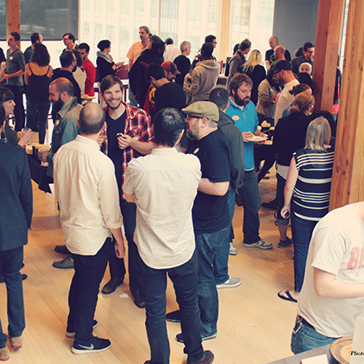 Last week, we introduced (and re-introduced) the folks at Wieden + Kennedy to some of our favorite Oregon edible makers all in the name of an Almost-Neighbors Block Party on their Sixth Floor/Deck. The event went over like free ice cream in the desert (dessert in the desert?).
We set up tasting stations around the wood-framed cafe. Sampling and even guzzling was encouraged.
Podnah's Pit Barbecue Kirk Kelley, our Creative Director, is one of the Texans behind Portland's ruling barbecue king, so we are often treated to the slow-smoked meat that made this place Willamette Week's Restaurant of the Year. As Southern hospitality dictates, he is happy to share and we are happy to oblige.
Bull Run Distillery About 50 steps west out our back door on NW Quimby reigns our favorite neighbor – Bull Run Distillery.  These guys visited the LAIKA/house studio this spring and we were thirsty to play again.
Owen Roe Winery Our favorite winery's Sinister Hand red was the memorable focal point of our 2010 holiday gift… We love Love LOVE their big reds and fruity (really not sweet) Riesling.
Reverend Nat's Hard Cider The Reverend, his non-traditional ciders and his bedraggled beard reflect what makes Oregon so great: An I-don't-give-a-shit attitude and a deep passion to make something delicious and original. We polished off a keg of our favorite Hallelujah Hopricot  and will wrestle you for a taste of Deliverance Ginger. Amen.
Woodblock Chocolate Admittedly most of Portland's chocolatiers are amazing, but Woodblock Chocolate's foundation is built on love, artistry, design and sustainability, which we like. The wife and husband team of Jessica and Charley Wheelock discovered a dream they didn't know they had and we get to taste it.
Ruby Jewel Scoops What's better than a dish of ice cream? A big dollop of ice cream squished between two homemade cookies. Our favorite is the Salted Caramel, but we would eat any of the flavors with pure glee.
The rain fell, during the mixer, but the view remained amazing.